We take the safety of members and guests seriously at Ace. We have reached the point of use that we need to set a capacity cap in the Workshops (suite #214 Downstairs). An overcrowded shop is not a safe shop. We also no longer have dibs as a nice to have but a should really do this.
Please note that this policy is not meant to be applied in a strict prescriptive manner. Please go with the spirit of the policy of being transparent with fellow members while avoiding unsafe overcrowding. While not prescriptive applied, this doesn't mean skipping dibs! TDLR; using the shop for more than 15 min. Dibs.
Dibs
You should call dibs on the shop tools and space when:
You are using the shop for more than 15 min.
Need to reserve a specific tool
Need to reserve the flex space for a glue-ups
How to Call Dibs
Post the word Dibs + Date, Begining time, End time, and project size, and specific tools to the #workshop channel on Slack. Examples

Dibs, Thursday, August 18th, 2pm to 7pm, 1 project spot, using tablesaw, hand power tools, and drum sander. But not using the big tools the whole time.
Dibs, Thursday, August 18th, 2pm to 7pm, 2 project spots, dibs on main center table, planer, jointer

Pin the dibs to the channel so it is easy to find.
Expired Dibs can be unpinned
Capacity
We have the capacity for six small projects to be going at any one time. A project or project spot is determined by the space needed. A cutting board, for example, is one project spot. A side table 2 project spots, and so on. Use your best judgment as to the scale of your piece.
The illustration below shows one example of a six-project footprint.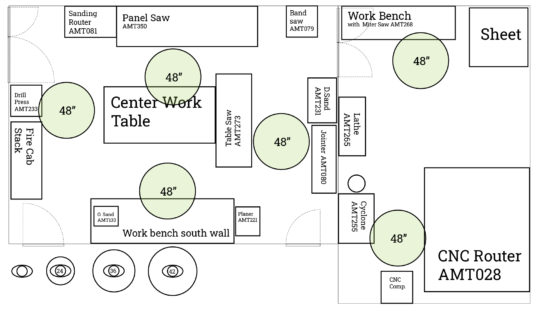 Tips
When visualizing your work area is it more than a 4 x 4? Then your project is more than 1 project spot.
Tools and Integrations
We know this is a bit of a hassle. Sharing is hard. We have plans pending funding and volunteers for integrations that can feed calendars.
FAQ
Is there any first come, first serve access anymore?
Yes! But if the shop is full the folks who did not dibs will be the one's that need to wrap up and make space.
If there is a class, are there still project spaces available? How can I tell?
No. If there is a class going on in the shops, members should not be using the space. Yes, even if you are in the front room and the class is in the back room. Ace strives to have inclusive, safe classes that accommodate a broad spectrum of learning styles. We cannot do this with members running tools and working on projects in the space without it really brining down the student experience. Also instructions don't like yelling over your tool sounds or competing for student attention with you.
What happens if the shop is full when I show up for my dib'd session?
Let folks know you are there for your reservation and ask who is wrapping up. Maybe help them.
If the shop is full, can I still come in to pick up materials or a tool I need to use elsewhere?
Yes, totally! We want to be both safe and practical about space and tool use.
Can I negotiate with somebody who dibs'd on a tool or time block?
Yes. The dibs system at Ace is designed for folks to talk to each other and manage sharing. If told "no" please take it gracefully.